The
Texty Ladies
have
invited me to post on Mondays, and I'm very excited to be part of this dynamic
group.
Please join me this Monday, when I'll have posted the second of
four workshops on
Plotting Your Story
. November 10th's class is on
Character
.
http://www.textyladies.com
I shared a few of the
tools I use, and I'd love to hear how you build character, too. See you
there!
Jacquie
Down Home Ever Lovin' Mule
Blues
(See the
Book
Video
)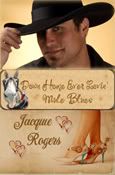 Jacquie Rogers
***
Myspace
***
Twitter
***
Facebook
Faery
Special Romances
***
Book Video
Royalties
go to
Children's Tumor Foundation
, ending
Neurofibromatosis through Research