Please join me at
Texty Ladies
, where I posted
What Starts Your Engine?
. I
wrote about a few of the ways I use to get my writing started, and I'd like to
hear what you have to say about it,
too.
http://www.textyladies.com/?p=293
See you there!


Coming up Jan. 14: Gamblers of the Old West at
Unusual
Historicals
. Be watching!
I hope you have a healthy and prosperous
2009!
Jacquie
Down Home Ever Lovin' Mule
Blues
(See the
Book
Video
featuring the music of
Justin Saragueta
)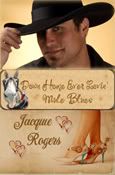 Jacquie Rogers
***
Myspace
***
Twitter
***
Facebook
Faery
Special Romances
***
Book Video
Royalties
go to
Children's Tumor Foundation
, ending
Neurofibromatosis through Research